Creative Dreams is a non profit youth development program.
---
Summer Day Camps
This Summer's program theme is, "What Do You Love?". We are asking you to help our students discover, "what they love". Your contribution will help them explore a variety of art forms including photography, music and sculpting. They will enjoy opportunities to visit many cultural venues in the Houston area like the Rothko Chapel, Miller Outdoor Theatre and museums related to the art forms. Additionally, they will have a chance to encounter potential career paths in the arts.
Summer programming runs from June 13-30, 2022 and July 11-29, 2022. Our doors are open from 3:30 PM to 8:30 PM. Please mark your calendar for our end of Summer Performance and Art Market, co-hosted by our students, on Friday, July 29, details will follow.
If you or someone you know would like to volunteer please contact us at 281-208-2018 or jazzg@creativedoc.org or kyrat@creativedoc.org.

---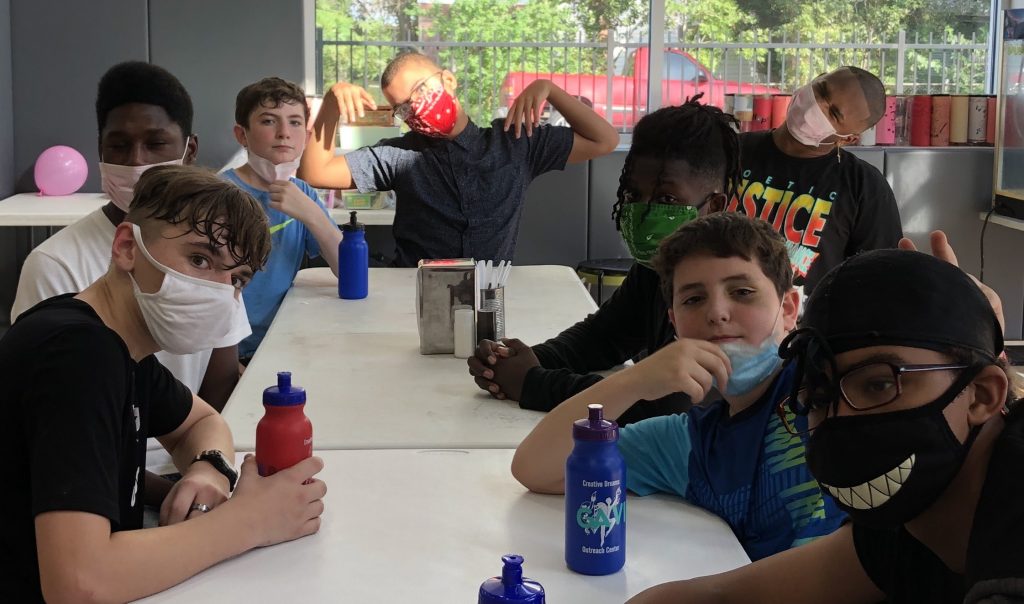 A letter from our Founder:
Can you imagine being a young student and losing the only place where you feel supported, loved and known?
Dear Friends of Creative Dreams,

Since reopening in November, we have provided a wide variety of services for our families. None of what we do is possible without your support.

We distributed Thanksgiving Dinner Bags to 35 of our families. We were able to provide 55 students with a Christmas to remember in spite of not being able to have our party. Each student received gifts from their personal wish list, a Christmas party in a box and a backpack full of healthy snacks to brighten their holiday. During the winter storm, we were able to house and feed twenty people who needed shelter. We have been so blessed to be a blessing.
We are also pleased to announce new partnerships in the community with Parkway United Methodist Church, Heritage Baptist Church, Managing Your Self, and STCH Ministries all to better serve our students.
As the percentages continue to decrease and vaccinations become more readily available we look forward to serving more and more of our families. As the restrictions are lifted, our programs can get back to normal. As the limits are lifted, we hope those students who have been staying home will venture out and come back to participate in our programs. The more students we serve the more expenses we have. WE would be honored if you would choose to become a dream partner and support Creative Dreams on a monthly basis. Every dollar we receive impacts the life of a student we serve.

God bless you all!
Jackie

Your gift today will impact a local student for a lifetime..
---
Building Better Tomorrow II


The main floor of our facility was completed in 2018 and we are now raising funds to complete the second floor. Since beginning construction on our facility it has been our dream to be a gathering place for the whole community where we are located. The completion of the second floor will allow us to continue providing our arts and sports programs for students on the main floor while serving the community through the programs offered upstairs. We hope to provide programs in adult education, literacy, GED Prep, financial literacy, and job readiness. Upon completion we will also have a workout area, coffee shop and office and meeting rooms for lease.
Purchasing a paver will help us to begin the process of raising the funds needed to complete our project and transform our 3000 square feet of open space into a blessing to so many.

Thanks for caring about the community we serve!
---
We moved to our new facility in February of 2018 and it has served us and the community well. We have loved providing programs for students but have a desire to also serve the community in which we are located. We have begun submitting grant applications, searching for business partners and making plans for the completion of the second floor. In an effort to serve the community, the plans for the second floor have changed. The new plans will create a resource center which will provide flexible family-focused and culturally sensitive programs such as job readiness training, budgeting and financial literacy, parenting classes, GED prep classes, computer literacy classes, a workout center, and office and meeting rooms for rent. We hope to complete construction by 2023.
---
Purchase a Prayer Heart for $25
Each prayer heart has been lovingly created by a Creative Dreams participant and represents the likes and dreams of a past or present participant. It is our hope that you will commit to praying for the participant represented by the heart each time you see your purchase. Hearts are available by completing and returning the commitment form below.