We want to finish the year strong in order to make 2021 the best year ever! Monthly gifts allow us to provide our students with the best in programming and feed their hearts, minds and bodies. We hope to end 2020 by increasing recurring gifts to $5000.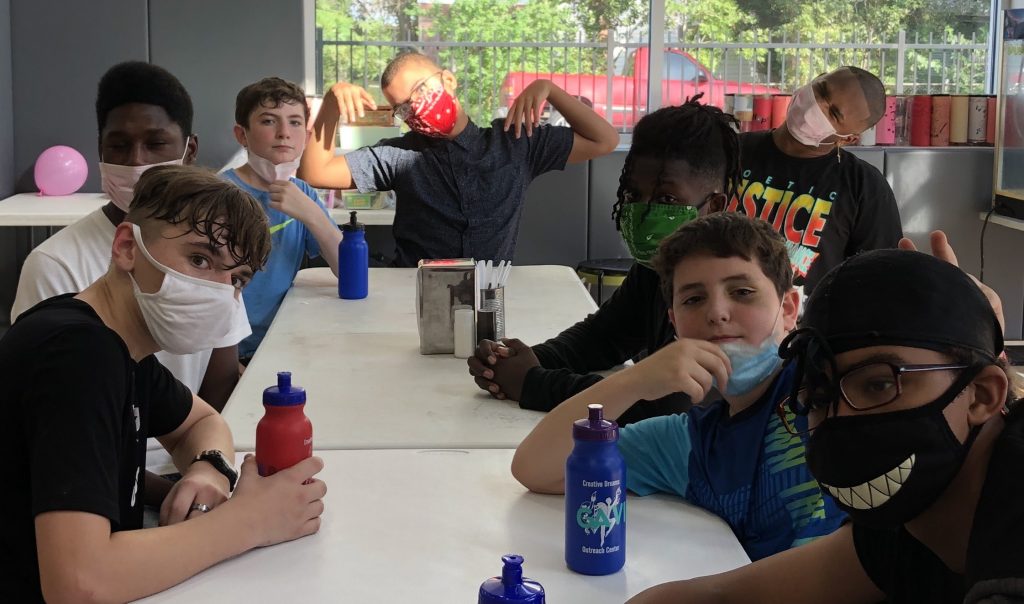 A letter from the Executive Director:
Can you imagine being a young student and losing the only place where you feel supported, loved and known?
Dear Friends of Creative Dreams,
I hope you and your loved ones are doing well. COVID-19 has certainly required some adjustments for all of us. This year has been one of the most challenging for us at Creative Dreams. We did our best to serve our families in spite of having limited hours and even being closed for many of the past few months. We are happy to say that we will be able to reopen at normal capacity after October 28. We will, of course, enforce the protocols as instructed by the Governor, but will be so happy to see our masked students.
We have adjusted our programs in order to serve the maximum amount of students allowed. We are also launching a community meal program to feed all the students in our service area, not just those who attend our classes. We hope to continue to provide Halloween treats, our Thanksgiving baskets and Christmas gifts during come and go events rather than in house events. However, we need an influx of income to cover the income lost because of being
closed, in order to fund each of these programs.
As many of you know, since founding Creative Dreams, Tim and I have cheerfully been the main means of support to cover any monthly deficits. After seven years of not spending more than two months together at a time, Covid allowed us to spend the last seven months together in Colorado. As I prayed about my return to Texas, God made it clear that He would make a way for me to step away from Creative Dreams. I believe you are part of his plan which will allow is to decrease our financial commitment.
We are so thankful for all of you who have continued to support Creative Dreams during these strange times. If you are receiving this letter, you have supported us in the past through
attending our events, generous gifts, or volunteering in our programs. However, we need YOUR support now more than ever. During the months we were closed, we missed out on rental and event income. If you already give on a monthly basis, we are so grateful. If you have blessed us with a one-time gift at any time, we have a special request for you. Will you please pray about signing up to give on a monthly basis? We are hoping to raise an additional $5000 per month. That seems like a huge amount, but only 200 of you need to begin giving $25 a month in order for us to reach our goal.
$25 provides meals and snacks for one student for the whole month
$50 provides one month of art supplies
$75 provides computer updates and tutors
$100 provides Fun Friday activities, pizza, birthday desserts
There are two ways you can give. Text Forward to 41444 or click the button below.

Your gift today will impact a local student for a lifetime.
God called me to found Creative Dreams almost sixteen years ago and has provided for the ministry in a multitude of ways. Now He is calling me to Colorado. And will continue to provide for the ministry through your generosity.
Thanks and God bless!
Jackie Stouffer
Executive Director